ESSENTIAL OIL SEMINAR IN JAKARTA
On 23rd February 2019, we held our first Aromatherapy Seminar in Jakarta Timur, Indonesia. The seminar took place at the Harmony 5 seminar room, Harper M.T. Haryono Hotel with around 25 participants, and was conducted in local language (Bahasa Indonesia) as well as English
Hikmah Sri Supriyanti, designated as the emcee, gave her opening speech by first introducing herself, followed by the introduction of Sakura-sensei and all other participants. The ceremony then proceeded to the next session, which is a briefing session with Sakura-sensei.
Briefing session with Sakura-sensei
In this session, Sakura-sensei explained about 調和(read: ch
ōwa), a Japanese word for 'Harmony'. According to Sakura-sensei,
when there is harmony in a community, it will bring a positive impact on life, career, business, etc.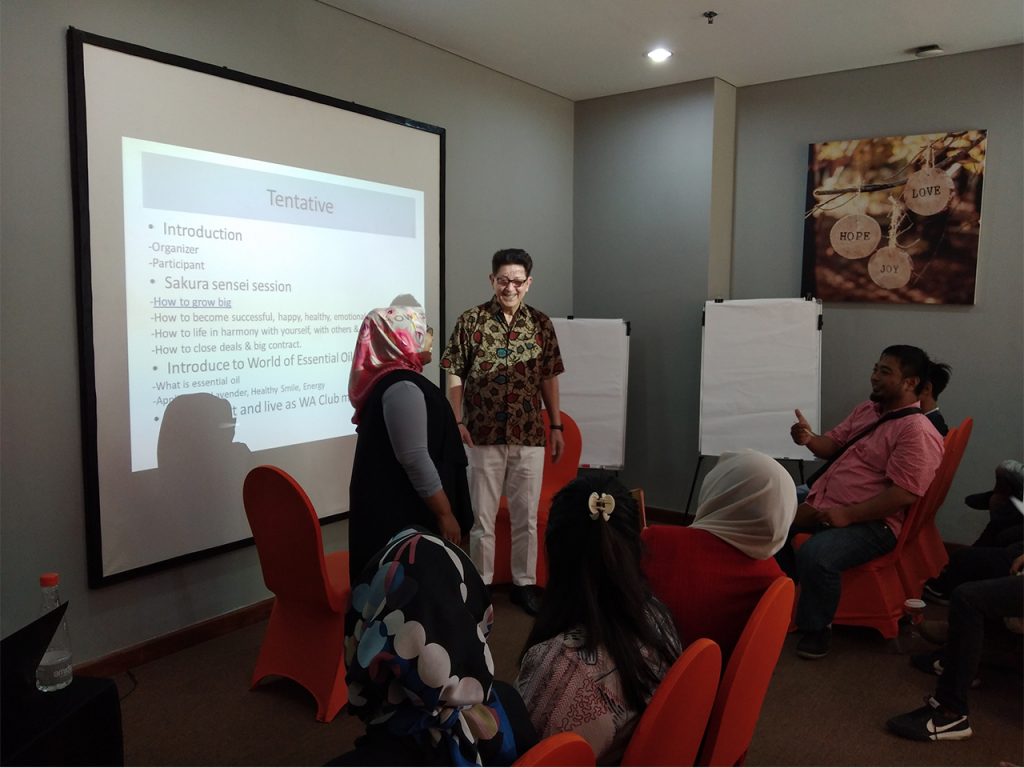 So how do you assemble that harmony? This is where 'aromatherapy' comes in. However, it doesn't necessarily mean that aromatherapy is the key to bring harmony, but one of the possible ways to bring those possible impacts.
Aromatherapy is "human's first and last medicine", as stated by Sakura-sensei himself. This is because, studies say the DNA found in both human beings and, for instance, lavenders are similar to each other. Therefore, lavenders can be used to treat skin wounds.
Lavenders are one of the various essential oils that WA Japan can offer, with others being Healthy Smile, Energy, and so forth.
After the briefing session, the participants went for lunch.
Experience session with Sakura-sensei
On the first half of this session, the participants get to literally 'taste' one of our blend oils, i.e., the Healthy Smile. We put a few drops under their tongue and then massage the gums. Unlike single oils, blend oils have mixed ingredients. One of them being the Mastic which serves as oral care.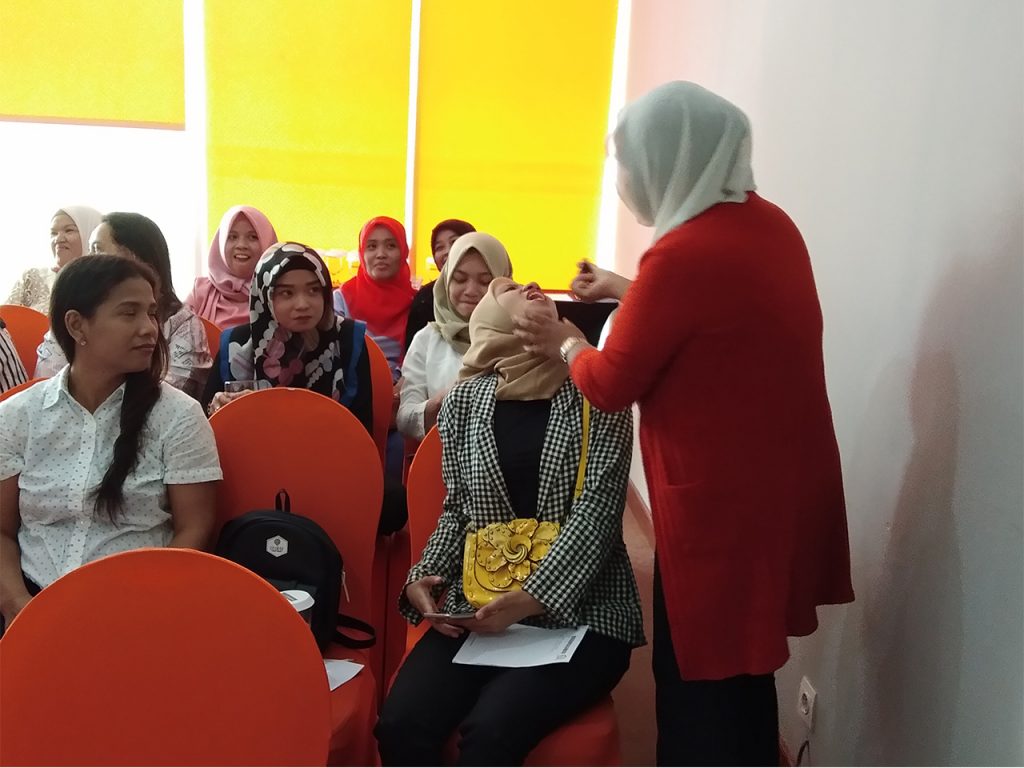 The participants said that, as soon as the drop gets into their mouth, they felt very refreshed. It was concentrated at first, but the taste eventually spreads throughout the mouth and when it does, it draws confidence especially in conversations. Other than that, they also said that the oil cools down the head and the taste was rare.
Moving on to the second half of the session. This session was performed in pairs of two. One person will put the oil to their partner's foot and then they will swap. This is done while synchronizing breathing rhythm to maximize the relaxing sensation and rapport.
The oil that we used in this session was another type of blend oil, Energy Oil. Energy Oil has a relaxing effect. When it touches the back foot, it penetrates into the body and hence the relaxation.
When we asked the participants about the seminar, they said that it was lots of fun and would love to share the experience with others.